If any one book inspired me to write my William Quest Victorian thrillers it's this one, Kellow Chesney's very readable and scholarly book on the Victorian underworld. It was first published in 1970 and – for me – is the standard work on this fascinating subject.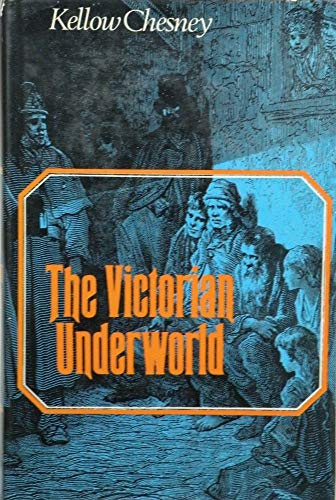 I first encountered it when I was an undergraduate at the University of East Anglia in Norwich. Although I majored in literature, I did a minor in nineteenth-century social history. The underworld was only a small part of my studies, but discovering Kellow Chesney's book sent me of on a wider reading programme, both in secondary reading and the primary sources.
When I'm asked to recommend a book on the Victorian underworld this is the one I suggest as a first read. There are several other titles I like – and I hope to give these a mention on the blog in the coming months – but Kellow Chesney's book is the most comprehensive and the best introduction.
It's all here, starting with a walk through the mid-century streets of London – and how vividly the author portrays the place. This is no dull work of scholarship, it's a page-turner as exciting as all the best mystery thrillers.
Then from the main streets frequented by the richest members of society, Kellow Chesney takes the reader to the borders of the underworld, the places where the dispossessed and those forced into crime to survive are obliged to lurk – and the boundaries between the rookeries and the smart streets of society are often back to back.
We are then taken on a journey into the rookeries themselves. Kellow Chesney conjures them up in all their awfulness. It is impossible to understand the Victorian criminal underworld unless you can understand the causes of crime.
Here are the beggars, the pick-pockets, the footpads and the swell mob. The skilled cracksmen who break the safes and steal the jewellery of the richest members of society. Here are the magsmen, gonophs, macers and shofulmen. The screevers and the Newgate mob. (I'll talk more about these in a blog early next week.)
There were perhaps 80000 prostitutes in Victorian London alone. Kellow Chesney deals sympathetically with their plight, whether they were working the poorest streets in the East End for pennies or selling themselves for much more in the night houses in the West End.
The book is wonderfully illustrated, mostly with the sketches of the great Gustave Dore, adding to the feeling of being there so brilliantly evoked in Mr Chesney's words. If you can, seek out one of the original hardback editions – the pictures are not so well reproduced in the paperback editions.
When I came to write William Quest, Kellow Chesney's book was the first I re-read. If you want a good understanding of the Victorian underworld, I commend it to you.